We've made it. The last stand. The final frontier. The Toronto Home Series.
While this season has been chaotic all around from player swapping, league rule changes, GA's, LAN to online, my ; it's been a fun ride. Only Playoffs and Champs remain. One team will rule them all.
And it all goes down this weekend. The top 4 teams will be competing for seeding, the remaining team will be trying to get out of the loser's bracket, and I will be trying to…get rich. Is it really "trying" this point if I'm alway right?
Let's dive into this week's viewing and gambling primer.
TEAMS PLAYING THIS WEEKEND:
(LA Guerrillas, London, NY, and Paris on bye)
Even as a Huntsmen fan, I gotta say it's crazy they always end up in the "easier" group. Not that any of this is rigged; no one predicted at the beginning of the season that Florida and Minnesota would have the success they had this year and everyone thought Seattle and OGLA would be much better than they are. But you have to imagine H3CZ is grinning from ear to ear that his team is grouped with 3 of the bottom 4 teams in the league for the final Home Series of the year. I'm a little worried though. You would think that this should be a cakewalk for the Huntsmen, but they have had a horrible reputation of underestimating their opponents this season (losing to LAG in the Minnesota Home Series and getting swept by NY in the NY Home Series). Still, I think with the stakes as high as they are Scump and co. will ball out and they win Group A. Who will join them? I think that boils down to OGLA and Toronto. Seattle just is mentally defeated at this point, and outside of Octane and Apathy no one has stepped up consistently. Meanwhile, OGLA added two new rookies that balled out last weekend, and Toronto upset Florida to win their group in their last event. I could see either team making it out of the group, but I think Toronto is the team to do it.
In Group B, there is yet again another "group of death" situation. Minnesota is the obvious outlier since they haven't had nearly as much success online as they've had on LAN, but they're still a very talented team and I think the meta change really benefits them. Then you've got 3 of the top 4 teams in the league: Atlanta, Dallas, and Florida. Dallas absolutely FRIED everyone they played last weekend including Florida. Twice. And while both Atlanta and Florida have definitely suffered the most from the MP5 nerf, they still have so much talent on those teams. They are absolutely capable of figuring it out and making it out of the group this weekend. So who will it be? I think the only "lock" I see right now is Dallas. I mean, regardless of how weak the competition was in the last Home Series compared to others they only dropped ONE MAP all weekend. That's ridiculous. Illey, Huke, and Shotzy all balled out supported by strong support from Clayster and Crimsix. This is probably the strongest looking team in the league right now. Between the remaining three teams, I think Atlanta is the other team I would be betting on. I would LOVE Minnesota to upset the whole fucking table and kick Atlanta and Florida out, but unless something drastically has improved I don't think we'll see that. So basically I'm choosing between whether I think Atlanta or Florida is better after the meta change, and I think Atlanta has more talent and potential to adapt than Florida.
SIDE NOTE OF THE WEEK: THE BATTLE FOR THE TOP 2 SEEDS
This is what this weekend is all about. The top two seeds basically get a free pass to the quarterfinals of the winner's bracket, meaning they only need to win 3 series to win Champs. And all four of the top teams in the standings (Atlanta, Chicago, Dallas, and Florida) have a shot at them. Here are the current standings:
Atlanta FaZe: 250 points
Dallas Empire: 240 points
Florida Mutineers: 220 points
Chicago Huntsmen: 220 points
I began to type out all the different scenarios that could happen depending on who makes it out of the group stage, but honestly, that is probably its own post and not worth all the time because literally, anything can happen. You get 50 pts for a Home Series win, 30 for 2nd, 20 for 3rd/4th, and 10 for winning a matchup. So basically Chicago and Florida need Atlanta and Dallas to place 3rd/4th at the highest and they need to make it to the final to clinch a top 2 seed. All very possible but as we've seen all year, nothing is guaranteed and I'm sure we're in for a rollercoaster of a weekend.
GROUP STAGE MATCHUPS TO WATCH: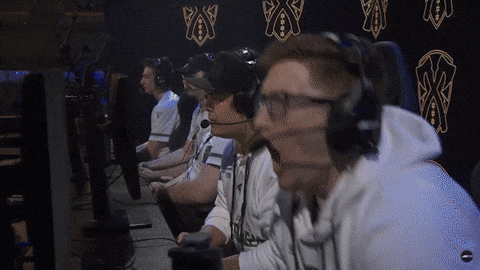 Basically, every game in Group B is a must-watch, and every game Chicago plays is a must-watch. I'm gonna watch them all because I want to see each team's form heading into Champs, but as I outlined above this weekend is really about the top 4. The only other teams that could make a big move are OGLA or Toronto. Whichever one makes it out of the group stage has an opportunity to knock Paris into the bottom 4 and secure a 5-8 seed.
GAMBLING PICKS FOR FRIDAY'S OPENING MATCHES:
Like I predicted last weekend, I boosted my record BIG TIME with an 8-2 ATS showing. My CDL betting record now is 30-17 on the season, and WE AIN'T SLOWIN DOWN THIS WEEKEND BOYS.
Here's who I'm taking in today's matches:
Atlanta FaZe -1.5 (-170) vs Minnesota Rokkr
God I hate this pick. Not that I don't feel confident with it, it's just I hate betting against the Rokkr cause they're my boys. But I gotta bet with my brain and not with my heart, and the Rokkr haven't beaten a top 5 team (or even taken them to a Game 5) since April. They just aren't as good online as they are on LAN. And yea, Atlanta has been taken to alot of Game 5's in the last few events, but I think they're on a mission to defend thier standings and they come out with a 3-1 win here.
Dallas Empire ML (-170) vs Florida Mutineers
Dallas is currently the most in-form team in the league. Let me repeat myself again: they lost ONE map during last weekend's Home Series. Oh, and they've won 11 straight maps. While the meta has greatly benefited the Empire, Florida as a team has been "nerfed". I mean, the team that won two straight Home Series is not the same team we saw last weekend. They may make a run this weekend, but it's not starting here. I'm also gonna sprinkle some on Dallas -1.5 (+135) because I think Dallas wins 3-1.
Chicago Huntsmen vs Seattle Surge +2.5 (-200)
Honestly, I don't like any of these bets on this matchup. Chicago ML being -1000 is absolutely absurd. Seattle may be one of the worst teams in the league and Chicago may shitstomp them, but still, that is way too high. And I had considered betting Chicago -2.5 for the sweep, but here's the stat of the day: Seattle has been swept only twice all year. Also, this is Chicago and Seattle's first matchup and Chicago tends to underestimate their opponents a lot. I think Seattle takes at least one round.
Optic Gaming LA vs Toronto Ultra ML (-105)
This is a pretty even matchup, but I think Toronto has the slight edge. Has Optic improved since Toronto 3-0'd them in June? Yes. Are the rookies good? Hell yes. Is this bet also slightly influenced by my hatred of Optic? Also, yes. But truly, I think Toronto is the better team at this point in the season. Bance, Cammy, and Methodz are really turning it up and the squad has meshed pretty well together, even upsetting FaZe to win their group in the last event. I think goes to Game 5 and OGLA has lost 3 of their last 4 Game 5's.
---
Games kick off today at 4pm EST, and this is the last Home Series before we take nearly a month off.
But when we come back, it's PLAYOFFS BABY LEGGO.