WARNING: we're going down a rabbit hole again. So grab ya tin foil hats, grab ya popcorn, grab ya chipotle because it is life. It's about to get real.
Starting today in Warzone, there is a new event called the Haunting of Verdansk.
Hits you right in your spooky feels, right? It looks pretty fun and I'm for sure diving into it later today. But don't you think it's kinda strange this is happening? I mean, Verdansk is literally a warzone (pun). All of these factions are fighting over…who fucking knows anymore but they're fighting! And suddenly, in the middle of the fight, on a late night in October, people are getting hunted by Leatherface, Dr. Karlov, and…Billy the Puppet???
Ok, does that last one not seem odd? A puppet? Like, what is this some weird twisted Pinocchio spinoff? How did a puppet come to life AND grow like double in size?
I mean, there's no fucking way.
My theory: It's not Billy the Puppet. It's someone dressed up AS Billy the Puppet. But who? I mean, who in the world could it possibly be?
Well, the first thought immediately goes to John Kramer aka Jigsaw aka Billy's creator. The dude has spent literally a decade and a half coming up with creative ways to kill people with a variety of saws. This seems right up his alley right? The whole "I want to play a game" shit matches up perfectly and we all know how above and beyond he goes to prove his point.
Here's the problem tho: Jim Kramer…I mean JOHN Kramer is dead. He died 14 years ago from (ironically) a bone saw to the neck from someone he pushed too far. So can't be him.
So I started thinking…who else in Verdansk…has an afinity for "going dark" (like it will be in the Haunting of Verdansk…who's first name is also John…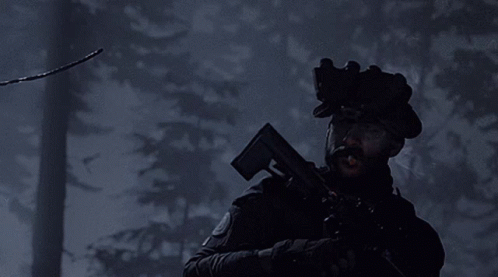 THAT'S RIGHT. IT'S CAPTAIN PRICE.
Question: have you ever seen Billy the Puppet's neck? NO. Because he's a puppet. Puppets don't have necks. Dumbass. But what do you seen on Billy in Warzone?
NECK ALERT. Look at that chonky neck and strongly defined adam's apple. That's the neck of a soldier.
Now, let's compare Captain Price's neck:
OH INTERESTING. IT SEEMS AS IF CAPTAIN PRICE HAS BEEN HIDING HIS NECK ALL GAME LONG.
HMM, I WONDER WHY.
Also, not as solid of a theory, but…