Aaaaaand we're back! It's Monday which means it's time for another edition of Behind the Mask! This week, I had the pleasure of talking to Hannu, the developer of one of the more unique horror games I've ever seen: Placid Halls. It's kinda difficult to explain so I'll let Hannu explain it further down below. Really quick, a few announcements. First, tomorrow marks the release date for Afterparty, the new title from the developers of Oxenfree, where you go to hell and have to outdrink the Devil. It's right up my alley and I cannot wait to play it. SO, I will be streaming it live on Mixer tomorrow evening until I finish the game! Second, my birthday is this Wednesday and I have some plans for the blog and Wednesday's stream to celebrate so tune in! Last, I want to again highlight a great deal from Humble Bundle. There's a bundle of critically acclaimed indie titles (Thomas Was Alone, The Stanley Parable) packaged together with Catherine Classic for $15, and that deal goes away TOMORROW! So go check it out and don't hesitate; I promise those games are worth it.
Without further ado…
This is me.
This is Hannu.
This is a GIF of exclusive behind the scenes footage of Toy Story 4.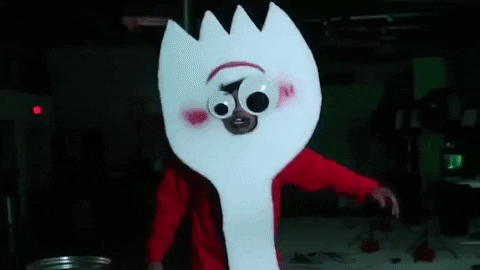 Alright Hannu, we start every interview with the same question: how'd you get into video games as a hobby? First game/console?
Alright, so my first gaming device was the Sega Mega-Drive I think. Got it from another family so just had three games on it: Sonic 2, Worms and Phelios. I was quite young and played those with my step-brother. Then we got a PC with Win95 and I spent tons of time playing MineBombers on it with friends.
Awesome. So many people haven't played Sonic 2 it blows my mind.
Yeah, it's such a nostalgic experience now. I listen to the great soundtrack from time to time.
See I listen to Streets of Rage's soundtrack when I'm blogging sometimes just cause it's so good. Ok, so how did you get into game development? Was it your first career choice?
Nice! Let's see, I've been making games pretty much since the fifth grade, so it's something I've always done. I've realized only recently that it's what I want to concentrate on. Now I'm finally making my first game with the potential for release and am fully committed to getting it done.
Since 5th grade? What the fuck? Are you a prodigy? What games were you making back then?
Well, a friend of mine taught me some simple QuickBasic for making text adventures on it! It wasn't rocket science. My first game was a dumb little story with multiple choices in it and we made them to get laughs from each other!
Ok, gotcha. So how'd you come up with the idea for your current game?
Oh, that's a good question. It was a long process of trial and error. I started SiP in 2016 as a totally different project than it is now, with a different vision and even genre. It was a multiplayer retro-style first-person text command based horror game… Pretty much everything has been ditched or changed since then and only the setting remains the same. So now it is an (obviously single player) horror roguelike. I realized that the emphasis on the roguelike elements was what I was after and eventually figured out how to even adapt the tactical combat from roguelikes into a horror game.
Expound on that last bit for me. Explain the combat.
So, the original problem was that horror games are mechanically quite shallow nowadays, so I wanted to fix that. If we try combat, it kind of kills the horror, as seen in many games, because horror comes from something you can't manage or manipulate. So I decided to split the horror and combat up into two different enemy classes, the walker and the crawlers. The walker is your basic unkillable horror creature that you need to avoid, and the crawlers are the things you fight against. So the only remaining problem is how do we have tactical combat in a real-time game? The solution came from WazHack's "they-move-when-you-move" concept. I realized that you could have a flashlight that the crawlers are sensitive to, making them able to move only when you move. This tries to replicate the turn-based chess-like combat in games like Nethack, giving you time to think about your next move. You stomp or throw items on the crawlers inflicting status effects on them etc. When the walker arrives, they skitter away.
Ah, so this is a giant mashup of concepts. It's like SuperHot meets Outlast.
Pretty much! I combined the two genres I love: horror and roguelikes.
I like the concept. Not sure how it will translate into gameplay, but I'm intrigued, to say the least. So how'd you decide on the character models?
The walker I won't really reveal yet, but I found some creepy paintings that I base some of them on. The first crawler model I've made is based on the beetle from Cronenberg's film Naked Lunch.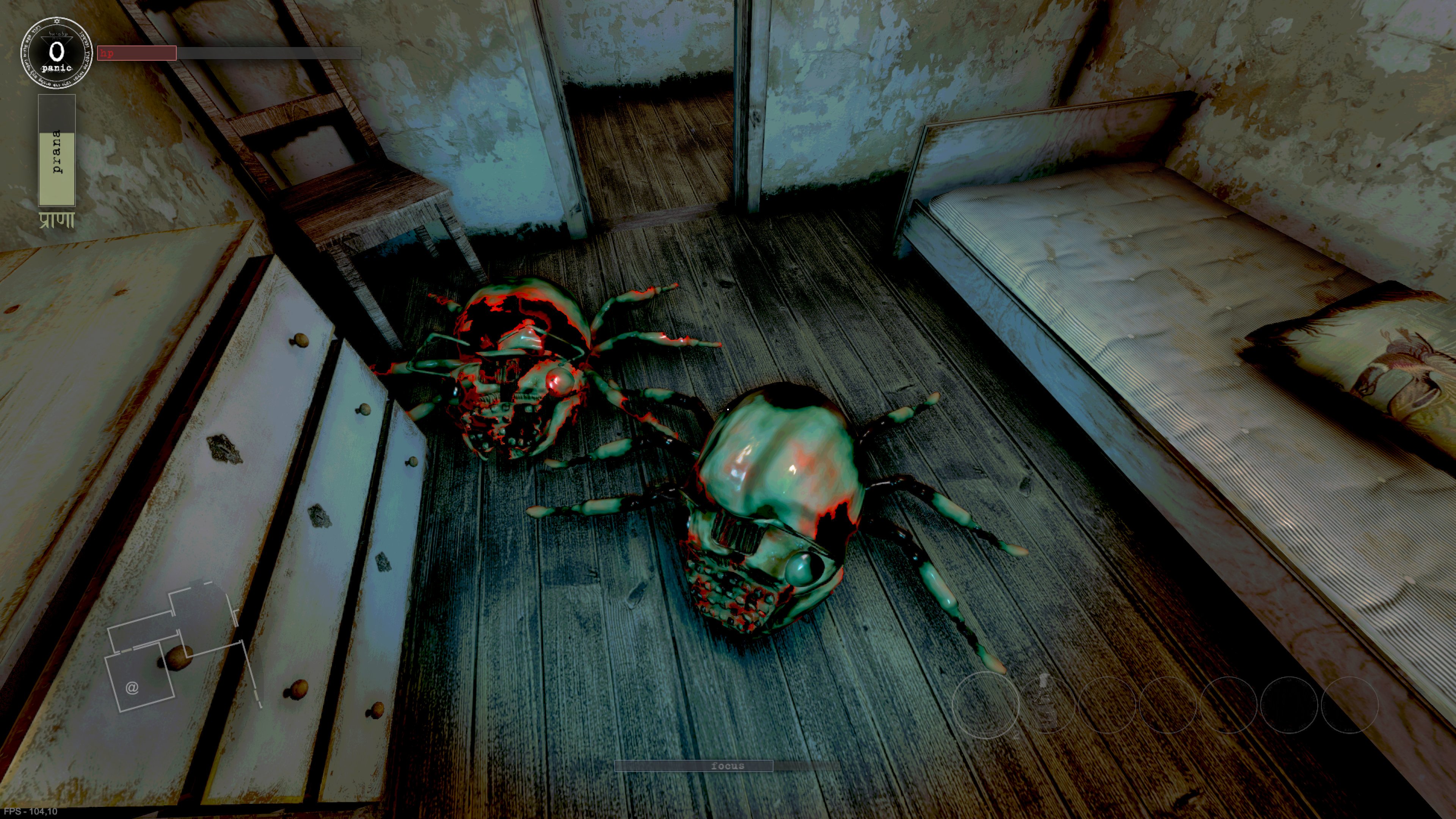 So my biggest question with all of this is how are you gonna manage the pacing? I feel like horror games are masters at building to good scares. You got plans for that?
Well, that's going to be hard to manage in a game like this, but I've got two ways. Firstly, some levels are more combat-oriented, and some focus on the horror aspect, which is used for pacing. Secondly, when the walker is around, it has the same kind of "menace gauge" like in Alien: Isolation. It basically manages the pacing of the horror by nudging the walker into your direction when things are feeling safe and makes it back off when the player has been under pressure for a while.
Ahhh ok I gotcha. That makes sense. I'm very curious to see the final product. When are you anticipating an alpha or beta to be available?
I'm aiming to have an early alpha demo ready in two months to show when I'm starting crowdfunding and such. But don't count on that too much. It'll showcase a couple first levels and so on, depending on how much I get done in that time.
Alright gotcha! Well, that's about all I have today. Thank you for your time today! Ready for some rapid-fire questions to wrap this up?
Sure!
Favorite game of all time?
I'd say Penumbra: Black Plague. It started it all for me.
What a fucking random ass response haha.
Haha, what do you mean? It's the greatest! I'm a huge fan of Frictional Games.
Haha favorite game this year?
Well I'm looking forward to Kojima's new walking simulator, hehe.
Death Stranding? Yep that's what that game is gonna end up being.
Yup, and a pissing simulator I guess!
Most underrated game of all time?
I don't know about all-time, but Yahtzee's The Consuming Shadow should get more players. It's great.
How bout overrated?
Personally, Spec Ops: The Line was a letdown.
Interesting. I thought the story was great. Game you refuse to play for whatever reason?
Hmm, Firewatch or some single-player campaign of any triple-A shooter.
Ok I'm gonna disagree with you there. Like strongly. What's wrong with you?
With Firewatch? Haha, I know, I might change my mind but it seems like just another walking simulator with an annoying find the place on a map system.
No, I meant the triple-A shooters. I mean most of them suck, yes, but there are a ton of great ones.
Oh, okay, I don't like some genres at all so I guess it's a matter of my odd tastes!
Alright last one, do you think Fortnite is a good game?
It's an ok game I guess, but the dancing kids are annoying as hell.
Oh I absolutely agree lol. Thank you again for your time! I look forward to seeing more of your work!
---
Alrighty, everyone, I hope you enjoyed that interview with Hannu! You can follow along with the development of Placid Halls on Twitter here! And don't forget that tomorrow night starting at around 7pm ET I will be streaming Afterparty live on Mixer! Stay tuned for next week's interview. It's a really big one.